The Team Dynamics Course is designed from the ground up by me based on over 15 years of experience working in and with teams. Collaboration in teams naturally relies on the people in the teams, yet how people interact is not covered in depth out there. Following my passion for helping teams become even better teams, I thoroughly enjoyed creating this program.
What is covered in the Team Dynamics Course?
How can your team reach true high performance?
Which engagement style is best for which situation?
How can you tell where the team is in their development?
What can you do to accelerate the natural development of the team?
How can you help the team discover an answer whether you know it or not?
What different kinds of conflict are there and how can you nurture the good kind?
Who is the Team Dynamics Course for?
If you're working with a team, i.e. a small group of people working together towards the same goal, as a Team Leader, Scrum Master, Team Facilitator, Team Coach, or with multiple teams as an Agile Coach, the Team Dynamics Course is for you. If you're a team member who always wonders about how the team could come together even more, this course is for you too. It's great to have such enthusiastic team members. You'll be an honorary Team Coach on this course.
What is it like?
The content of the Team Dynamics Course draws from lots of experience, tons research, and science. All curated and the most potent selection is bundled together to help you help the team become a better team.
The program runs over 2.5 months. Every week you get a small number of course pulses so that you can learn more material and have a bit of time to practice what you learned. In between and after the course pulses you also have access to the Team Genius community to help you deepen the learning. Through this Learn > Practice > Reflect cycle you'll get the most out of the course.
The course features high quality production video instruction throughout. You can also take the course with you with the myTeachable app for iPhone and iPad. When it comes to the web-browser experience, here's a sneak peek: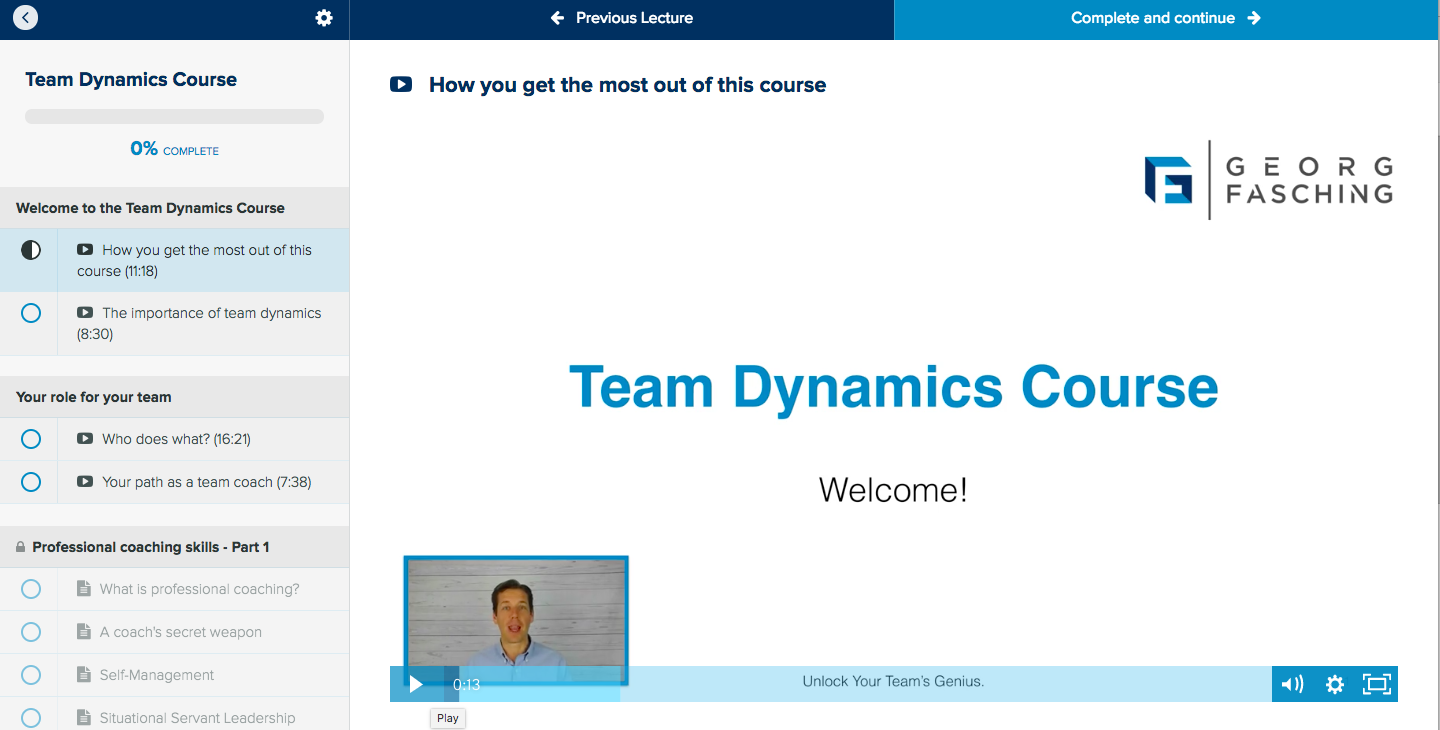 Are you with a charity or a civil/public servant?
Your work helps the world. Thank you! Contact me for a -30% coupon code from your work email address at georg at georgfasching dot com .